All About Leandra!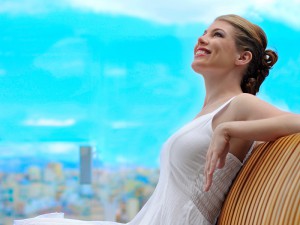 LEANDRA RAMM is a versatile singer and actress with an "extraordinary voice" (Anderson Cooper). She has performed with numerous theater and opera companies throughout the world. Her favorite roles performed include: The Full Monty (Estelle) at The Media Theatre, Iolanthe (Leila) at The Buxton Opera House with the International Gilbert and Sullivan Festival (UK), Mario and The Magician (Silvestra) with Center for Contemporary Opera (she is on the CD of the work, under the Albany Records label), Man of la Mancha (Antonia) with Diablo Theater Company, Hell's Kitchen The Musical (Annie) at The Hudson Guild Theatre, and The Endless Road by Kurt Weill (soloist) with The American Symphony Orchestra performed at Avery Fisher Hall. Leandra has also performed at Carnegie Hall, Lincoln Center, Symphony Space, Steinway Hall, La MaMa, and 59E59 Theaters among other venues. In addition to her performances on land, Leandra has been a lead vocalist on four contracts with Celebrity Cruises, sailing throughout the world.
Leandra has appeared and sung on television programs around the globe. Such programs include: CNN's ANDERSON COOPER 360, THE VIEW, GOOD MORNING AMERICA, 60 MINUTES, 60 MINUTES AUSTRALIA and the BBC as well as appearing on radio broadcasts and magazines in Ireland, the USA, and England. Leandra has been featured in newspaper articles from the LA TIMES to THE LONDON MIRROR, to the NY TIMES to newspapers in BEIJING, CHINA. Celebrities such as Barbara Walters, Anderson Cooper, Star Jones, Morley Safer and Robin Roberts have interviewed Leandra.
Leandra debuted at the age of 14 as a soloist in Kurt Weill's The Eternal Road with the American Symphony Orchestra, conducted by Leon Botstein and performed at Avery Fisher Hall. After attending The Manhattan School of Music, Leandra completed apprenticeships, outreach tours and performances with Arizona Opera, Toledo Opera, Opera Carolina, Des Moines Metro Opera, Sarasota Opera, New Jersey Opera, Aspen Opera Theater Center, Opera Orchestra of New York, Martina Arroyo Foundation Prelude to Performance and Center City Opera Theater.
As a recording artist, Leandra has released many singles and two full albums: Invitation to a Voyage and One Night With You, all available on itunes, Amazon and CDBaby. Leandra is also co-author of her new book "Stalking a Diva" available on Nook, Kindle, and ibooks. She also starred in the television series' "My Life Is a Lifetime Movie", and "Obsession: Dark Desires" sharing her amazing life experiences.